Looking for canine diabetes treatment information? Keep reading!
The purpose of this article is to discuss canine diabetes treatment and related topics. Details are provided to help you understand how to treat a pet with dog diabetes.
Introduction
Before digging into this canine diabetes treatment article, be sure to read Canine Diabetes: Risks and Symptoms. It is the first part in this two part series...
Treatment
The best treatment for canine diabetes mellitus is insulin, most effectively given as an injection. It will not be as effective if given orally because it will only be absorbed by the intestine and excreted through urine or bowel movement. Insulin injections for canines are formulated to be injected subcutaneously and be slow-absorbing, so that its action is longer and the dog will not require more shots.
The three types of canine insulin usually given are PZI or protamine zinc insulin, NPH or isophane and lente, which is an insulin-zinc suspension mix. The type with the longest duration is PZI, while NPH and lente may be good enough for daily once or twice shots.
---
Learn something new about your cat or dog every single week.
Subscribe now to the Pet ComfortNewsletter, your trusted source
for pet news. Subscribe today, I'll give you a $17 gift. Act now!
---
Canine Diabetes Treatment: What Dosage?
The type of insulin that a dog needs and the maintenance dose will depend on the dog's size and the stage of his disease. While some dogs will require only one shot per day, others may need at least two. There is no standard dosage for any one breed of dog and insulin dosage will have to individually tailored to the needs of the dog especially during the period of stabilization.
Canine Diabetes Treatment and Care Kit
Since canine diabetes will require life-long regular care, monitoring it will be a lot easier if you have the proper kit stocked with your dog's medical supplies. Use an old first-aid kit or buy a pouch that's easy to carry and can contain the following supplies: insulin, several syringes, glucose test strips for urine, prescribed food, white corn syrup and a medical alert tag.
What to Expect for the Care of Your Dog
Dogs with canine diabetes will need to be monitored closely and their diet must be watched. It might also be better to use commercially-prepared diets rather than home-cooked meals. The best alternative would be to feed your diabetic dog with veterinary or prescription diets that will work along with insulin treatment.
Proper canine diabetes treatment requires Constant monitoring of blood glucose since there is a danger of the dog developing hyperglycemia or high levels of blood sugar, which can be life threatening to the dog.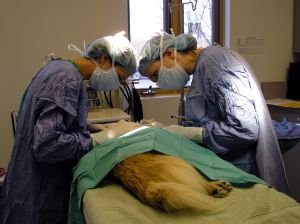 When injecting insulin, it's best not to give it cold, as it can cause some discomfort for the dog. Avoid injecting the same area to allow the skin to recover. To prevent infections, it is also prudent to use syringes only once and disposing them as necessary and as required by your community.
If your pet has canine diabetes, there is no reason why he or she shouldn't live a long, happy life. With your care and responsible monitoring, your dog can still enjoy a normal existence and give you the priceless companionship that only dogs can give.
Keep reading...
Subscribe to the Pet Comfort Newsletter
Pet Comfort Newsletter Back Issues
The information provided on this site is for informational purposes only and is not intended as a substitute for advice from your veterinarian or other health care professional. You should not use the information on this site for diagnosis or treatment of any health problem or for prescription of any medication or other treatment.