Start here! It's time to dress up your dog or cat with pet clothing...
The future of pet clothing is here today. There are literally thousands of styles, sizes, colors, and materials available. Read this article if you want to gain some insight and inspiration.
Some Background on Clothing for Pets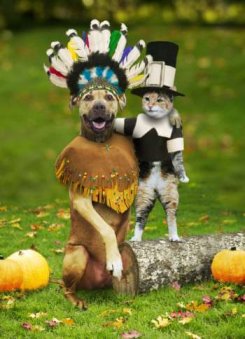 Cat and dog clothing can make a cute animal look completely adorable. This is especially true with small dogs and cats, and of course, puppies and kittens.
Not surprisingly, there are many different types and designs of pet clothing offered. Furthermore, there is now designer pet clothing available from top clothing designers. There is also leather pet clothing available. Some clothing is made for special occasions, like Halloween and Christmas. In short, if you can think of something that your pet might wear, someone is making it.
To give you some inspiration, let's take a look at all the different types of pet clothing you could buy. Here's a list for you:
Pet Pajamas
To ensure your dog's good night sleep, you can purchase a pair of pajamas for them to use every night. They can be made out of thermal fabrics, but the most common materials are cotton or polyester. This is very nice during cold winter nights!
Pet Bathrobe
You wash your dog or have it take its bath regularly. And after doing so, your dog splashes water around. The answer? A good terry cloth bathrobe! Robes usually have a front closure or top zipper or buttons for easy dressing. A bathrobe is best after your dog or cat is groomed (bath time).
Pet Raincoat
Are there times you and your dog are caught in the rain while exploring the great outdoors? Prepare for those instances. Let your dog wear a raincoat that will protect them when it's raining outside. Some even come with adog rain boots perfect for the occasion. Very cute too...
Pet Jackets
If you take your dog outside even as it snows, a dog coat or jacket could be needed. There are different types of jackets, of course. There areparkas, blanket coats, ski jackets, and even thermal hoods. Some are waterproof, while others are made of leather or faux suede.
Pet Sweaters
Your dog can feel cold during the winter even while inside the house. For such cases, let your dog don a cute and cuddly piece sweater made especially for them. You'll see that they will feel more comfortable moving around because they feel warmer. There are dog sweater variants that cover the legs as well and are available in a range of wonderful colors.
Pet Fashion Clothing
Well, you must have seen movies where dogs are dressed in cute little dresses. Those maybe customized, but there are a lot of retailers selling them now. Fashion clothes can come in pink, of course, but many other colors too. The often come in sets, consisting of a shirt, pants, hood, and boots. Accessories are also available.
Pet Life Jackets and Vests
These are the attire required of hunting and active dogs. Some come in reflector paints or reflective strips to aid dog owners in finding their pets even during the night. Life jackets are ideal for dogs that have a need to be within a body of water, maybe in a boat, as a fishing companion. Fun with fish and your furry friend!
Pet Shirts
These are your dog's everyday clothes. Some have themes like rugby, tennis, and golf-style shirts. Some just goes with the regular T-shirt design with nice prints and patterns. These are your dog's spring and summer wears, ideal for trips to the beach or to the park. They come in a variety of styles and designs to choose from.
Pet Holiday Clothes
Dogs and cats dressed in clothes that are holiday-inspired will surely add to the occasion's fun. There are Christmas costumes available, complete with Santa's hat and belt. Turn your dog into Santa's assistant and kids will surely love it. There are also Halloween costumes available for your pets. Bring them along when trick or treating and they are sure to get a bag of treats on their own. There are many costume types; too many to list, but you probably have your own great ideas!
Pet Clothing Accessories
To complete your pet clothing ensemble, you are going to need accessories like pet bandanas or even pet goggles. There are even pet diapers available for your dog within their potty training periods. Boots are common. Usually, there is a pair of boots made especially to match a given set of pet clothes. There are also bonnets and hair clips to match.
Final Comments on Pet Clothing
These are just several options to dress your pets. Usually, these fit dogs and cats, but you can surely customize some clothes to fit your other pets or your rather big dog or little cat.
Pet clothes can be cute additions to your wardrobe. And these are not solely for aesthetic purposes. You can also protect your pets and keep them comfortable and warm during any weather. Have fun!
Subscribe to the Pet Comfort Newsletter 
Pet Comfort Newsletter Back Issues