Looking for information about pet water bottles? Start here!
The purpose of this article is to explain the value of pet water bottles. Tips are included, as well as product and accessory recmmendations.
If your pet lives an active life like you and travels or moves around a lot, you will need to keep him hydrated. That's why pet water bottles are required. This isn't much of a problem indoors, since the good old water bowl will do the job nicely, but outdoors, it's a different story altogether.
Imagine taking your dog for a walk and having to lug around a small bowl or canister. Hey, if you get to drink, why not your companion? Give a little consideration to your pet and get him one of those water bottles to use for those special trips.
Tips on Buying Pet Water Bottles
Choose clear plastic. The reason is simple. You want to know how much water is left so you can refill if necessary. You don't want to be trapped in an isolated location with no water and a very thirsty pet, right? Besides, clear plastic bottles allow you to see dirt that may find their way inside and will allow you to clean it properly.
Choose heavy-duty plastic for durability. Cheaper products with low quality plastic may seem a more practical choice, but if you're going to use that pet water bottle frequently, you might as well buy one that will last.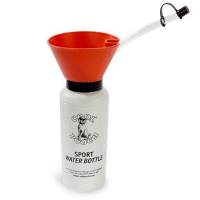 Nylon or silicon nipples won't do. It's a common misconception for pet owners, who think that their pets will still suck from a silicon nipple and so use feeding bottles to store water in. Once pets are weaned, it's highly unlikely that they will suck water from a feeding bottle, so buy him a water bottle that's designed especially for his needs.
Get a pet water bottle that has a drinking tube made with either durable plastic or stainless steel. This is designed to prevent leakage and will only release water when your pet's mouth or tongue comes into contact with it.
---
Learn something new about your cat or dog every single week.
Subscribe now to the Pet Comfort Newsletter, your trusted source
for pet news. Subscribe today, I'll give you a $17 gift. Act now!
---
Size matters. For puppies and rabbits, a pet water bottle that can hold at least 32 oz. is enough. Guinea pigs will do well with 16-ounce bottles while hamsters can use an 8-ounce water bottle. For bigger dogs and animals, buy bigger-capacity bottles or bring at least two smaller-capacity water bottles to ensure sufficient water supply. If not, just be ready to refill the bottle as soon as it's empty.
Number of pets. If you have lots of pets, get an automatic pet drinker. Hang up to five drinking bottles from a rack so your pets don't have to wait their turn. Bottles are supplied with water through a plastic hose that connects to a tank.
An automatic pet drinker is a good solution for a pet owner who leaves home early and comes back late. Just fill the tank with water before going out the door to ensure that your pets have sufficient supply of water for the day.
Pet Water Bottles to Consider
Clear Water Bottle by Farnham is a heavy-duty plastic pet water bottle that features a leak-free stainless steel drinking tube. It's available in several size capacities so you can choose which one your pet needs.
Try the Handi-Drink Portable Pet Bowl. It's a two-in-one product that solves drinking water needs for bigger dogs who just won't do with licking minuscule water amounts from a small drinking tube. This is a water bottle and bowl device – when it's time to drink, just snap the bowl onto the bottle, turn the bottle upside down and squeeze so that the water flows into the bowl and your pet can just lap it up.
Another brand that features the two-in-one bowl plus bottle device is CritterTrail's Pet Water Bottle. It uses a foldable bowl that is permanently connected to the mouth of the bottle with a small plastic hinge. Just unfold, tilt the bottle and let your pet drink.
Some Recommended Accessories to Buy for Pet Water Bottles
A carry belt or a shoulder strap. These are great for long walks, nature trips or just regular travel. The bottle can hang from your waist or shoulders and be as unobtrusive as possible. These straps also allow for convenient and easy access -- no need to open or unlock anything.
Extra drinking tubes. Once the old one stops functioning, you can always replace it with a new one.
Multi-directional drinker base. This may be convenient for your pet in the long run, since the base can be turned at least 180 degrees for easy pet access, allowing him to drink from any location near the water drinker.
Water bottle brush. Necessary accessory for essential brushing and clean ups. Brushes are designed to reach inside the bottle and clean areas on the side and bottom that cannot be easily accessed by hand or finger.
Subscribe to the Pet Comfort Newsletter
Pet Comfort Newsletter Back Issues