Are you looking for good dog stroller information? Keep reading...
This article will help you choose the perfect dog stroller. Understand why a stroller is a good idea and get some excellent tips so you can make a smart purchase.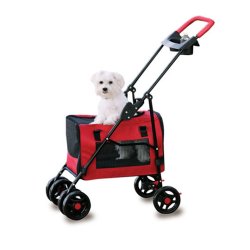 When Does a Dog Stroller Make Sense?
You might want to consider buying a pet stroller if your dog is weak or old.
Perhaps your dog is temporarily unable to walk due to an injury.
Maybe you want to keep your dog clean. For example, with a stroller, you can take your dog out for a walk even when it is wet and muddy outside.
In short, there are plenty of very good reasons to consider a pet stroller.
The Quest for the Perfect Stroller
Dog strollers can only handle a certain amount of weight. Be sure that the stroller can hold your dog. Ensure that your pet will enjoy traveling in comfort inside the stroller. Obviously if you have a small dog you will have more stroller options. Special Tip: Some cat strollers also work as strollers for small dogs.
Even if your dog is well within the weight limit, pay attention to the dimensions of the pet stroller. Some dogs are large in size but don't weigh too much whereas some small dogs are very dense and heavy. In short, when shopping for a dog stroller, make sure that you consider all the significant dimensions: height, width, and of course, weight capacity.
Obviously, the best test for pet stroller comfort is to put your dog inside the stroller. If he's able to sit, stand, turn, and curl without any problems then you've found a perfect fit. The disadvantage is that if you buy a stroller in a pet store, you're going to pay top dollar.
How Will You Use Your Dog Stroller?
Some pet strollers are only designed for use on well-paved roads but are extremely lightweight. If you're fond of walking downtown or through parks, a dog stroller of this kind might be perfect.
If you love trail walking, buying an all-terrain dog stroller is probably a better choice. Rain or shine, muddy or slippery, an all-terrain pet stroller with its powerful and large wheels will surely be able to handle any obstacle that crosses its way. When purchasing an all-terrain dog stroller, consider buying one that comes equipped with shock absorbers as well so your dog would suffer from the least amount of bumps and humps. Not surprisingly, really tough dog strollers come with a really tough price!
A collapsible dog stroller is ideal if your vehicle has a small trunk, or if you don't have much room for storage in your home. Some strollers will collapse with one click. The whole thing will virtually fold itself into something manageable in size. The smallest collapsible dog strollers can be slipped in the trunk or back seat of your vehicle. By the way, a stroller with a detachable carrier is definitely bulkier than a collapsible one but it does allow you to easily carry your dog around. It might be the right option for you.
Privacy for a Moody Pet
Some dogs are just like human beings. They can suffer from mood swings, for instance, just as we do. If your pet dog happens to be like this as well, you should consider purchasing a dog stroller that places a partition within the stroller to give the user a semblance of privacy if and when it so wishes. This might sound funny to some people, but if your dog is moody, having a privacy shield can be very important.
Matching the Stroller to Your Weather
Whether it's hot or cold where you live, you should be able to find a dog stroller that will exactly match your weather. For people living in tropical climates, you might want a durable but lightweight pet stroller. Also, the material should allow proper air ventilation inside the stroller. For pets that are constantly exposed to damp and cool weather, on the other hand, be sure that you consider a stroller with a closure option. That way you can keep your dog safe and warm.
By the way, dog strollers should also have sufficient storage space to provide easy access to dog food, toys, medicines, and toiletries. Some pet strollers also come with a parent tray, which is for you. It'll provide storage space for beverages and cell phones, among other little things.
Final Considerations
To get the most out of your dog stroller, your dog needs to be happy with it. Be sure to provide proper training. Offer the right rewards and encouragement. Slowly accustom your dog to the stroller inside and outside your home.
Subscribe to the Pet Comfort Newsletter
Pet Comfort Newsletter Back Issues