Want to Know the Symptoms of a Pregnant Dog?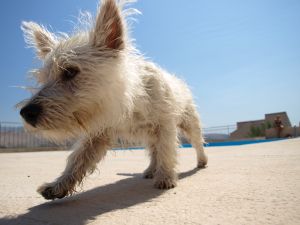 What symptoms can you expect if your dog is pregnant?
Let's talk about the symptoms of a pregnant dog. Here's the scoop... Pregnancy or gestation in a dog is nothing like pregnancy in a woman. While a woman can purchase a pregnancy test, this is not the case with a dog.
Going to a veterinarian is one of the only ways to tell if a dog is pregnant. That, or pay close attention to the symptoms of a pregnant dog.
What are the symptoms of canine pregnancy?
Before three or four weeks, there generally aren't any visible outward symptoms. Your dog may have some character changes. She may seclude herself a little more, or she may do the opposite and demand more attention. It all depends on the type of personality your dog has right now.
One of the most predominant signs at the beginning of a pregnancy is weight gain, but if a dog is carrying a small litter of puppies, then weight gain may not be so obvious. Like when a woman is pregnant, some dogs will experience a decrease in activity. Walking her daily is a great way to keep her in shape, and healthy.
Near the end of the gestation or pregnancy, she may become quite agitated. Some dogs will pace, and have loss of appetite. The pacing is normally due to the fact that the dog is looking for a place to give birth to the puppies. This can also be known as "whelping". This is a natural process. The best thing that you can do for your dog at this time is to make her a box, or purchase one. She should have a comfortable and secluded area for herself and the puppies. This will make her feel safe.
It's also important to keep children and babies away from the dog at this time. Prior to having puppies she may have been an exceptional dog, but having puppies may put her in a protective mode.
Allowing strangers and other family members around her may cause some aggression. If this is her first litter then this is type of behavior is very possible. However, dogs that have previously had litters may not change at all. They know what they are doing, and have learned to trust the family around her puppies.
If you look closely, symptoms of a pregnant dog are quite obvious. Keep an eye on your dog, and she should show signs soon enough.
RECOMMENDED READING
Subscribe to the Pet Comfort Newsletter
Pet Comfort Newsletter Back Issues
The information provided on this site is for informational purposes only and is not intended as a substitute for advice from your veterinarian or other health care professional. You should not use the information on this site for diagnosis or treatment of any health problem or for prescription of any medication or other treatment.