How to Get and Use a Dog Pregnancy Test
This article will tell you all about dog pregnancy testing and canine pregnancy tests. You'll know what to look for, where to get what, who to talk to, and more about your pregnant dog. Let's get started...
So you haven't had the chance to get to the vet to have your dog spayed, or you plan to breed your dog. She is in Estrus and she has been attached with a male dog. How do you know if your dog is pregnant? Do they offer a dog pregnancy test? It depends on who you ask.
Yes, they do have dog pregnancy tests available. Normally the test cannot be done before 20 days, in which case, you may have already seen some symptoms without the test.
If you don't see any symptoms, and it's been 20 days, then you can go to the vet so that your vet can take a blood sample. The test can be extremely costly, so waiting to see if she's pregnant may be your only option.
So while you can only verify pregnancy with this test at 20 days, at 28 days normally your vet will be able to tell by pulping the dog's stomach. So why not wait? Instead of paying a luxurious fee, you could just wait the extra week.
There is a way to tell if your dog is pregnant earlier, and this is by ultrasound. Your vet may even be able to see how many puppies are in the abdomen. This can be done before 20 days.
Ideally this is something that you can talk to your vet about. Your vet will give you the information you need so that you can make a good and informed decision.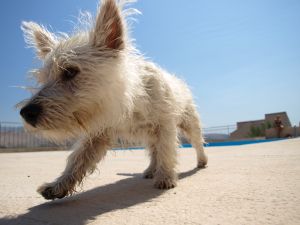 Most people don't really need the pregnancy test. You can just wait, and in time you'll be able to see whether or not she's pregnant. What's the rush? Unless you plan to get her spayed while she's pregnant, this is another subject completely.
You will begin seeing some changes in your dog's character. She may become more affectionate, or in some cases there may be a bit of aggressiveness, although not all that often. Her nipples will become engorged and will darken, while her stomach will become swollen.
So, while you may not be able to afford the dog pregnancy test, if you pay close attention, you may be able to see some significant changes in your dog. These changes will confirm her pregnancy without a doubt.
Some online research will help you determine what stage of her pregnancy she may be in. There are many documents available through search engines.
RECOMMENDED READING
Subscribe to the Pet Comfort Newsletter
Pet Comfort Newsletter Back Issues
DISCLAIMER
The information provided on this site is for informational purposes only and is not intended as a substitute for advice from your veterinarian or other health care professional. You should not use the information on this site for diagnosis or treatment of any health problem or for prescription of any medication or other treatment.